Shopping Cart Portable Stair Climbing Cart with 8 Wheels Heavy Duty(Large Purple)
4.97
stars, based on
72
reviews
Price:
$119.99$89.99 / piece
Contact Us
Before placing order,check the item size is suitable for your Need or not.This is not a standard big cart!|Upgraded Handle|Reinforced,Lengthenning,360 degree Rotating Cart handle,make it more comfortable and Labour-saving in different working conditon.The Reinforced handle will help a tall person not have to bending to pull the cart,and the original handle can convenient a slightly person pull directly.
|High Quality|Adopted full premium 3mm aluminium material and high quality bearing for a smooth and quiet working performance.All from EX- the factory testing data and hundreds of our customer showed its realiable and excellent performance in smoothness and steady,
|EASY STAIR CLIMBING DESIGN|Three Swivel wheels design specifically makes the Stair trolley a easier stair climbing and down steps,more labour saving . Match with the 360 degrees universal front wheel, make the cart also good on mud, grass, stairs, cobblestones, concrete, and gravel.
|Easy Installation|The Foldable grocery shopping cart come with a clearly installation instruction and installation tools for easier installation.This cart can be fast transformed within minutes to meet different needs,a trolley dolly,a shopping cart,a office storage mover.
|Multi-function| Not only for transporting laundry, groceries, gardening tools .Also be widely used for office files,suitcases, boxes,bottles of water, beach gear and kitchen supplies with its excellent tri-wheels design and spacious space.
SPECIFICATIONS:
Color of cart: Silver
Color of Shopping bag:Purple

Max. Load: Approx. 40kg/88lbs

Material: Aluminum Alloy


Bigger size Cart:

Fold Dimension: 22 x 105cm/8.7 x 41.3inch
Basket Dimension: 40 x 39 x 39cm/15.8x 15.4 x 15.4inch
Whole Dimension: 54.5 x 49x 100cm/21.5 x 19.9 x 39.4inch
OUR AMZON DEAL DOLLY CART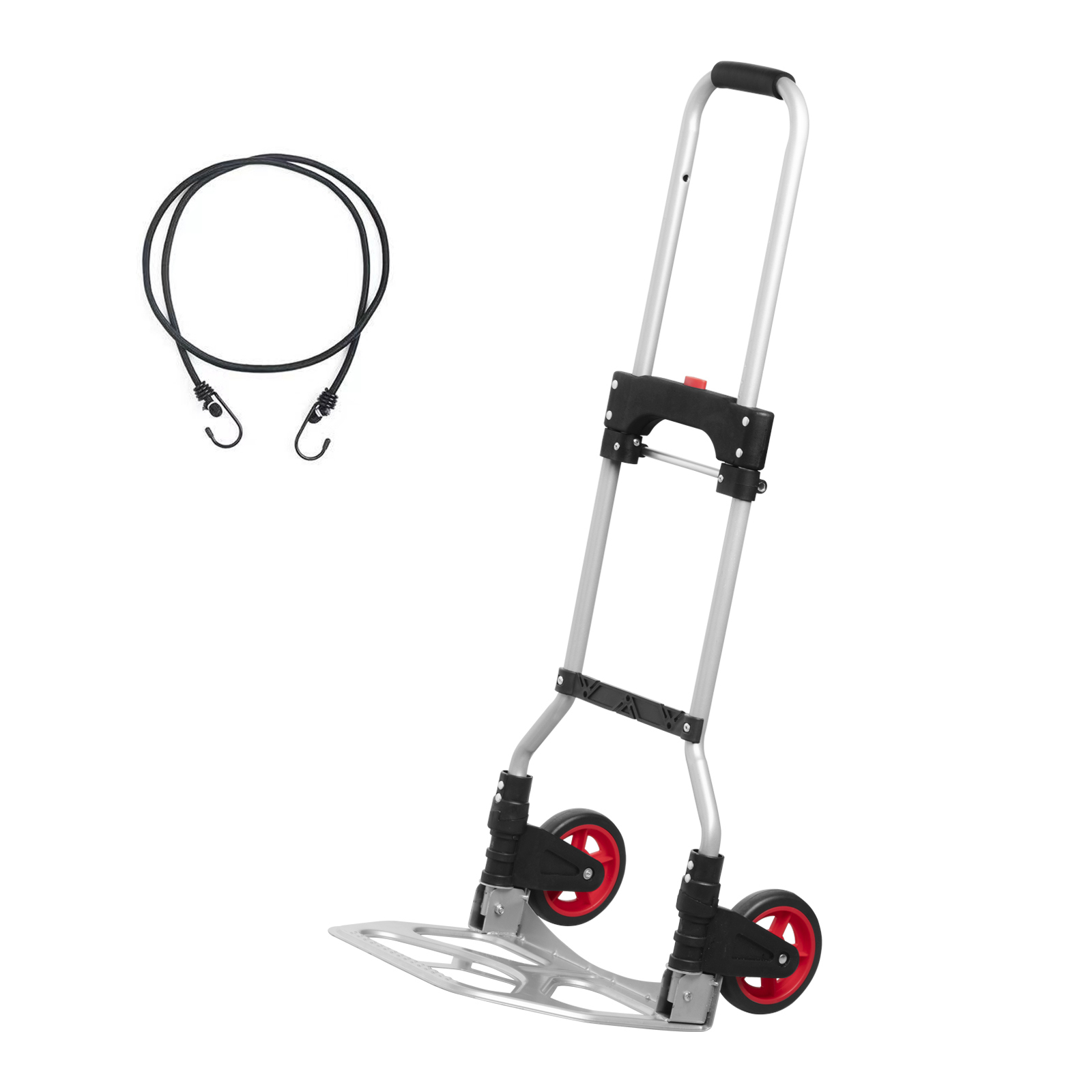 https://www.amazon.com/gp/product/B09B2883TV?maas=maas_adg_D2429B52CB8B0558C66B0B21DB63ECC2_afap_abs&ref_=aa_maas&tag=maas

ByMaryam El-SalehTuesday, 25 April 2023
Very easy to assemble. Just pop on the wheels! Folds nicely. Like small pouch on back. Collect my reusable grocery/store bags there to return to car. Maneuvers well. Much better than last cart with two back wheels only. Wish it were a little bigger.
ByJodie BowenTuesday, 18 April 2023
So easy to put the wheels on. I like the little basket on the back to hold my purse or putting bread and other delicate food items when bringing in the groceries.
ByTracieFriday, 03 March 2023
I bought this for my elderly mother to help get the groceries from the car into the house. She loves it and says it has made getting the groceries inside so much easier. No more multiple trips to the car!
ByDonna LaverackTuesday, 20 September 2022
ByRainie DuranteWednesday, 07 September 2022
ByPenny MarkowitzSunday, 28 August 2022
Easy to assemble and runs smooth. Just what I needed.
ByP. WilliamsSunday, 10 July 2022
The cart was very easy to assemble. It is roomy and lightweight. Also very easy to maneuver. Glad I bought it.
ByJBWednesday, 06 July 2022
Bought this for my daughter while she is at college. Easy to assemble and folds up easily.
BySharon dixonTuesday, 05 July 2022
Compliment on the street and showing item on Amazon it's that good
ByAmazon CustomerSunday, 22 May 2022
Storage is ok but leaning against a wall rolls down . A wheel lock would be a better design.
ByAnita M.Monday, 02 May 2022
This was perfect for what I needed. I can load it from my car and make one trip instead of 5 or 6 trips to get all my groceries in the house.
ByLooking for greensWednesday, 13 April 2022
I use it all the time since moving to a high rise apartment. It folds easily and stores in my trunk. Happy I purchased it.
Byjudy yorksFriday, 01 April 2022
Now I can get my groceries in the house in one trip. I love it..
ByRobert R JenningsFriday, 01 April 2022
Very easy to maneuver around. Being used to bring groceries from car to our 9th floor apt. Very happy with this product so far.
ByCRECENCIA FRANKSFriday, 01 April 2022
She loved it👍. It's easy to unfold an resold.
BykathytnFriday, 04 March 2022
I can't believe how easy it was to assemble. Everything about it is "as advertised".
ByKindle CustomerThursday, 17 February 2022
We moved from our house to a senior-living apartment. We're right in the middle so we have a pretty long walk from the entrance. Great for groceries and also works nice for going down the hall with the laundry. Overall, I'm very satisfied with it.
ByMcBride'sTuesday, 07 December 2021
Moved into an apartment building and wanted a cart for groceries, packages etc. I like its tall handle so it is easy to push or pull ( the carts the building has available do not have handles and are awkward to push). Was easy to assemble and easy to fold up. I keep on the car so always on hand.
ByJoyce AlfaroNAME_NOT_RETURNEDSaturday, 20 November 2021
Best cart to have when you live in an apartment building for groceries and laundry!
ByVickyFriday, 15 October 2021
This cart is terrific and I wouldn't want to be without it. It is more sturdy than i was expecting and perfect for taking essential into the nursing home for my relatives. It rolls and steers very very well and is easy to collapse and put in the trunk of the car.