Shopping Cart Portable Stair Climbing Cart with 8 Wheels Heavy Duty(Large Purple)
4.97
stars, based on
72
reviews
Price:
$119.99$89.99 / piece
Contact Us
Before placing order,check the item size is suitable for your Need or not.This is not a standard big cart!|Upgraded Handle|Reinforced,Lengthenning,360 degree Rotating Cart handle,make it more comfortable and Labour-saving in different working conditon.The Reinforced handle will help a tall person not have to bending to pull the cart,and the original handle can convenient a slightly person pull directly.
|High Quality|Adopted full premium 3mm aluminium material and high quality bearing for a smooth and quiet working performance.All from EX- the factory testing data and hundreds of our customer showed its realiable and excellent performance in smoothness and steady,
|EASY STAIR CLIMBING DESIGN|Three Swivel wheels design specifically makes the Stair trolley a easier stair climbing and down steps,more labour saving . Match with the 360 degrees universal front wheel, make the cart also good on mud, grass, stairs, cobblestones, concrete, and gravel.
|Easy Installation|The Foldable grocery shopping cart come with a clearly installation instruction and installation tools for easier installation.This cart can be fast transformed within minutes to meet different needs,a trolley dolly,a shopping cart,a office storage mover.
|Multi-function| Not only for transporting laundry, groceries, gardening tools .Also be widely used for office files,suitcases, boxes,bottles of water, beach gear and kitchen supplies with its excellent tri-wheels design and spacious space.
SPECIFICATIONS:
Color of cart: Silver
Color of Shopping bag:Purple

Max. Load: Approx. 40kg/88lbs

Material: Aluminum Alloy


Bigger size Cart:

Fold Dimension: 22 x 105cm/8.7 x 41.3inch
Basket Dimension: 40 x 39 x 39cm/15.8x 15.4 x 15.4inch
Whole Dimension: 54.5 x 49x 100cm/21.5 x 19.9 x 39.4inch
OUR AMZON DEAL DOLLY CART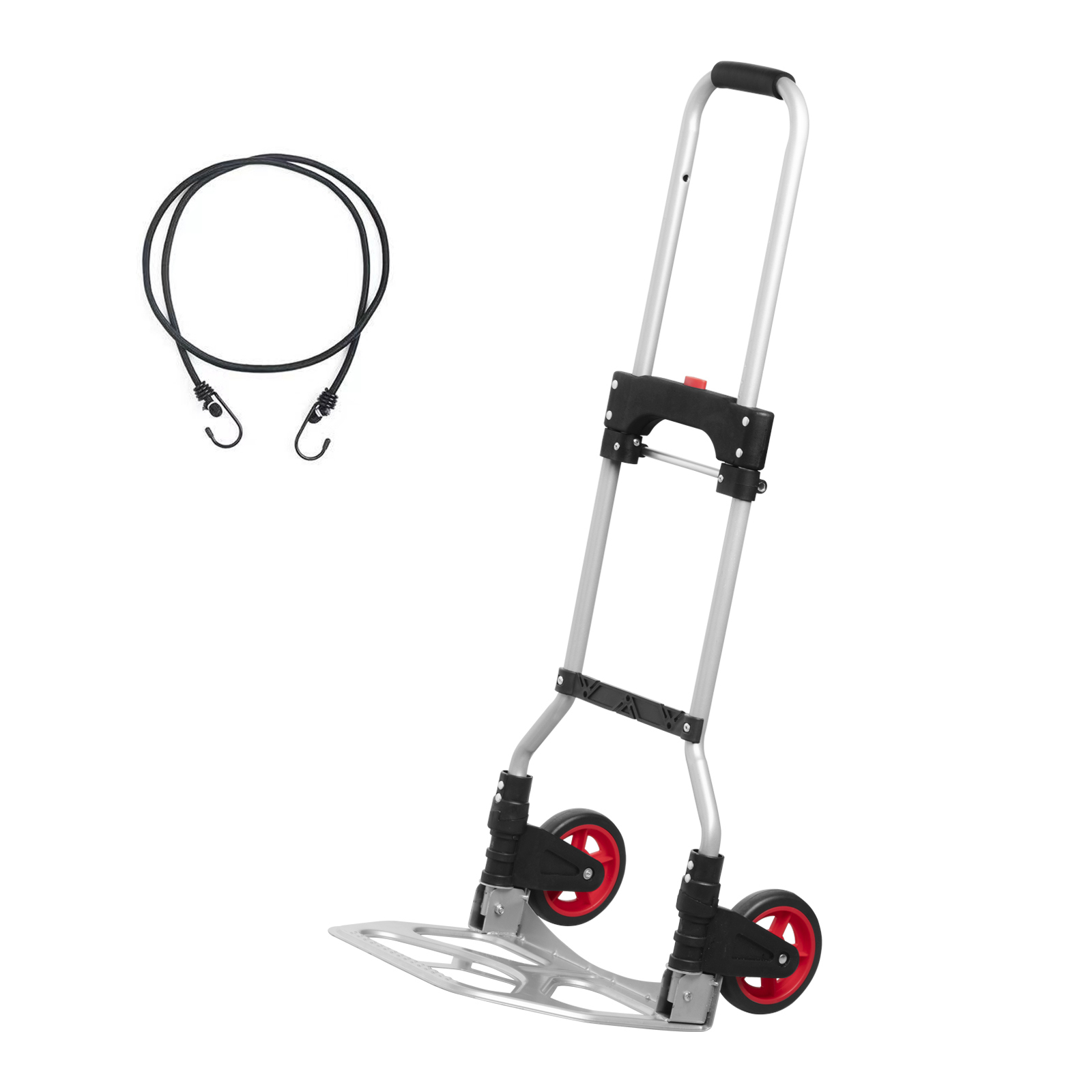 https://www.amazon.com/gp/product/B09B2883TV?maas=maas_adg_D2429B52CB8B0558C66B0B21DB63ECC2_afap_abs&ref_=aa_maas&tag=maas

ByNaTuesday, 14 September 2021
ByranchersdaughterSaturday, 11 September 2021
I shop at a local swap meet periodically and this helps me carry multiple purchases.
ByCarolFriday, 03 September 2021
Piece of cake to assemble, folds up with ease and pretty lightweight for as sturdy as it is. All good. The only negative I'd offer is because the basket is not wide (like a wagon style) loading groceries in it requires they be stacked which is a bit of weight on produce and eggs and such. But the product itself is good.
ByM. L. RossiTuesday, 17 August 2021
I bought this to use at the farmers market. It is bigger than I thought, but I still like it. I don't have to bend over to grab the handle and the little basket on the back is great for softer items so they don't get smushed. It rolled smoothly and was easy to push and pull.
ByTonyDSaturday, 17 July 2021
I've just used this basket twice. The rear basket needs more wiring. Smaller objects will slip through I've put a cardboard liner in it to solve that problem. The main basket seems ok. I'm going to put a piece of cardboard on the bottom of it so small loose objects won't fall through. The wheels roll smoothly asphalt. It was easy to assemble; The only assemble was to put on the 4 wheels, which snapped easily.
BySherryFriday, 16 July 2021
They came early and I expected thank you.
Bybob dwojeskiFriday, 11 June 2021
the handle is the right lenght
ByDeanna LeFevreSunday, 23 May 2021
I like that it is bigger than some & also that it has the extra basket to hold your purse or would hold a couple more bags. I know it costs more than some but to have it bigger & deeper is worth a lot not counting how sturdy it is. Also it was very easy to snap the wheels on.
ByDeanna LeFevreFriday, 21 May 2021
I like that it is bigger than some & also that it has the extra basket to hold your purse or would hold a couple more bags. I know it costs more than some but to have it bigger & deeper is worth a lot not counting how sturdy it is. Also it was very easy to snap the wheels on. I had received some Gift Cards for Mother's Day so I didn't have to pay anything. Well worth the extra money it should last a long time.
ByBillal MabizariFriday, 07 May 2021
Perfect for grocery shopping when you don't want to use your car. Small enough that it's not bulky but big enough to hold stuff!
ByTrinSaturday, 20 March 2021
This thing is absolutely AWESOME!!! I live on the fourth floor and this shopping cart makes things 100 times better when carrying up groceries (elevator). I can't believe I never ordered one earlier. Definitely recommend this to anyone out there looking to ease their trips back and forth to the car. You will not regret it.
ByPeter AndersonMonday, 22 February 2021
I'm really glad that I got to buy this and get reimbursed. Thanks, Wellmax. I will say my one small complaint and it's for me is I tried using this cart to help me bring my laundry down from my 9th-floor apartment to the ground floor laundry roomand wanted to place my fabric softener container in the added basket on the back end, but unfortunately it was just a little too wide. So for me, it was a little inconvenient, but we'll see if I use it for shopping or something else if it works better.
ByAFTFriday, 10 July 2020
This cart is easy to assemble. Carries a lot and the wheels are easy to maneuver!
BynycTuesday, 26 June 2018
It's very good for the price. It does its job. A bit noise and wish the wheel is more study and bigger but! for the price, it is great. I also got a used one so saved some bucks!
ByJJFriday, 20 April 2018
It's easy to assemble; it opens and closes easily. It's a little bigger than I expected so more things fit in it, but I have to maneuver it to get it in the trunk of my car. The small basket is nice so smaller items don't get "lost" in a big bag.
By So far so good!Monday, 27 March 2023
Using as an inspector cart at a 3 story resort. It's climbing stairs well. It's very light weight. We never put alot of weight in it bc we don't need to and hoping it causes it to last longer. I see now what some people wrote about the lid closure. I had hoped for my particular use that the bag sloped as the look of the lid sloped to make it easier to get into but bc it doesn't we can carry an extra bath mat and a few more items so it's working out.
By reliableMonday, 27 March 2023
I have a bad back, and having difficulties getting groceries into the house (5 steps) . This cart does the job well. I love the fact that it does not have a basket, but a sturdy foot, that it does not roll away from you (one fixed foot when setting down) and if you remove the bag, you can even transport car batteries, or bigger cardboard boxes. It is very lightweight, but so far it looks very sturdy. It is a bit harder to manoeuver on soft soil or grass, because it always has 4 wheels on the ground, and turning is sometimes a little harder. I would have preferred if it came with a bungee cord to use without the bag, but for this price I am not complaining.
By Great!Monday, 27 March 2023
I have the other version of the trolley dolly. I actually purchased two and they are still holding up well after several years of use. The quality prompted me to purchase the version for use on stairs. I'm so glad I did. It's fantastic. I would recommend a bungee cord of some sort to secure heavier items on the trolley. Other than than that, it's an awesome product.
ByAmazon CustomerFriday, 10 February 2023
Love this. Makes it so much easier to bring groceries into the house instead of making several trips.
ByMountain dwellerThursday, 09 February 2023
Assembly was just snapping the wheels on. Maneuvers well.